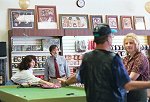 Muff and Real get ready to start signing.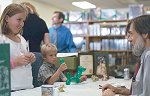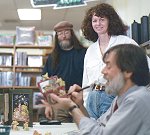 Dave Bridges and Muff Musgrave look on as Real Musgrave signs "Toy Box".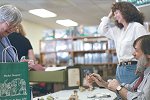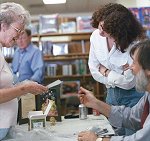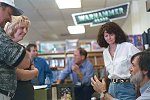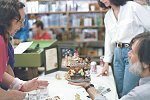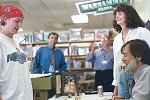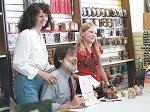 Muff and Real get their photos taken with local artist Sarah Bedwell and her drawing of Pocket Dragons and their friends. We hope to see the photo and art work in an upcoming Gazette.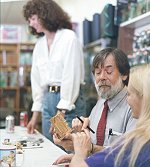 June Collins has her newly purchased "Counter Sign" countersigned (since it was a signed copy, she had it signed again).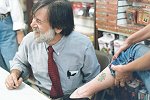 June shows us her "Climbing Up" tattoo -- both Real and Muff thought it was great.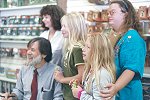 The Gulley family have their photo taken with Real and Muff. The youngest daughter was the winner of "Bathing The Gargoyle" and she was thrilled!
The older Gulley also got something special -- a drawing of a Pocket Dragon on her cast.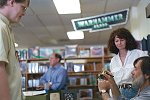 K.C. listens while Real explains the importance of the reversed image of yourself you see when you look into the lens of "Smile!"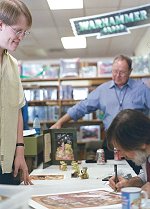 K.C. gets an art print signed. We are amazed that Real can tell stories about the detail in the artwork, all the while signing and adding little drawings.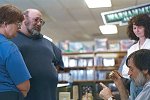 It was great to see Ray and Karen Nitzschke down from Lubbock.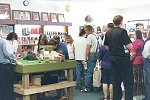 The line never got very long but Real was kept continuously busy -- and his fans got to know each other while waiting.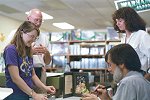 Melissa and Dennis Pipes are some of Real's biggest fans here in Midland.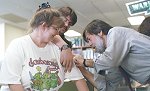 Anissa Young got her Scarborough Faire T-shirt signed -- next pic for a closeup.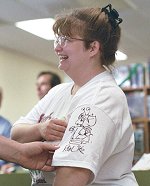 It's Commander Cookie!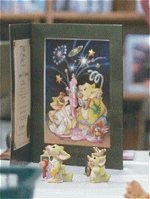 Sorry I didn't get a closeup of the upcoming Limited Edition print, but here's a sneak preview along with a quick view of some of the 2003 releases (which can be seen in greater detail elsewhere on our website).